Kamen Rider Wizard
Kamen Rider Wizard  is a Japanese tokusatsu drama in Toei Company's Kamen Rider Series, being the fourteenth series in the Heisei period run and the twenty-third overall. Trademarks on the title were filed by Toei on June 21, 2012, and it was officially revealed on June 27, 2012.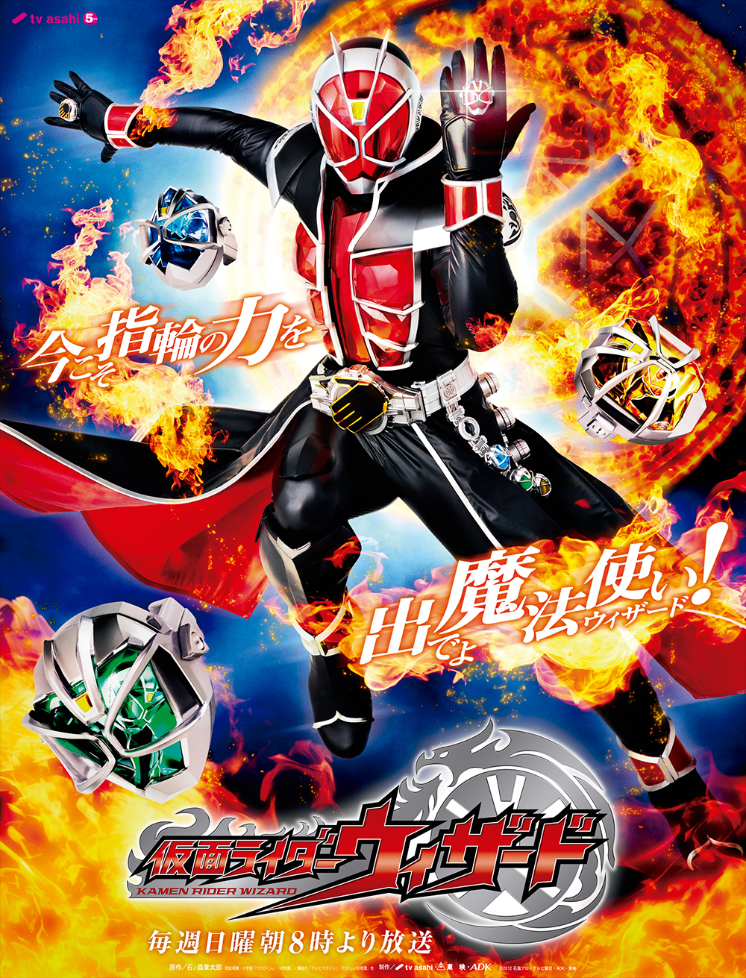 Kamen Rider Wizard 2012
It began airing on TV Asahi on September 2, 2012, joining Tokumei Sentai Go-Busters and then Zyuden Sentai Kyoryuger in the Super Hero Time lineup. Tsuyoshi Kida is the series' main screenwriter.
In April 2017, TV Japan began broadcasting the series in the United States and Canada
Kamen Rider Wizard English sub
Six months prior to the start of the series, a mysterious ritual held on the day of the solar eclipse took place. Its purpose was to give birth to a group of magical creatures called Phantoms through humans with magical potential called "Gates", by forcibly subjecting them to immense despair. Haruto Soma, the survivor of the ritual, and Koyomi, a mysterious girl who has lost all of her memories, are tasked by the mysterious White Wizard to fight the Phantoms.
Watch online Kamen Rider Wizard
Haruto is also given the Wizardriver to become Kamen Rider Wizard in order to prevent the Phantoms from transforming other Gates into Phantoms themselves. Later on, a man named Kosuke Nito appears as the ancient wizard Kamen Rider Beast to feed on the Phantom's magical power to survive and becomes both a rival and ally to Haruto.
Watch online Kamen Rider Wizard English sub
As the two wizards wage their battle against the Phantoms, who are led by the hotheaded Phoenix, the cold and merciless Medusa, the scheming Gremlin, and the enigmatic Wiseman, things are not all as they seem.