Kamen Rider W (Double)
Kamen Rider W is a 2009-2010 Japanese tokusatsu drama, the eleventh series in the Heisei period run of the Kamen Rider Series. It premiered following the finale of Kamen Rider Decade on September 6, 2009, and aired alongside Samurai Sentai Shinkenger in TV Asahi's Super Hero Time programming block.
Following Shinkenger's finale, it aired alongside Tensou Sentai Goseiger, until W concluded on August 29, 2010.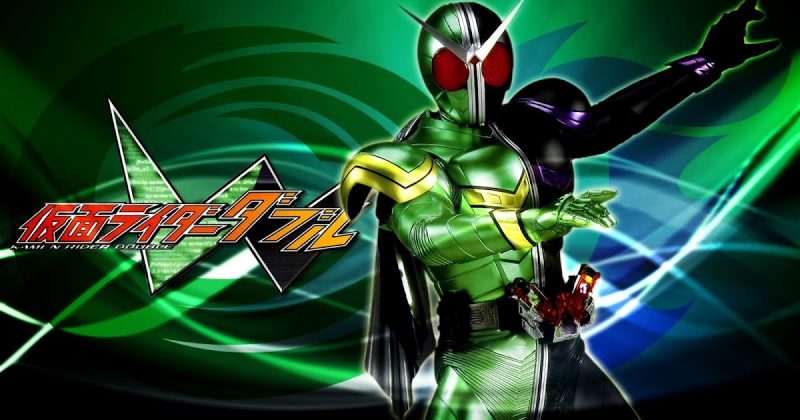 Kamen Rider W (Double) 2009
The series is described as the "Heisei Kamen Rider 10th Anniversary Project: Fall Campaign" (平成仮面ライダー10周年プロジェクト 秋の陣, Heisei Kamen Raidā Jusshūnen Purojekuto: Aki no Jin). In the first episode of Kamen Rider Fourze, W is revealed to be in the same continuity as the original Showa timeline, making it the first series to do so since Kamen Rider Agito.
In the ecologically-minded city of Futo (風都 Fūto, the "Windy City"), where nearly everything is powered by windmills, the people live in harmony. However, the Sonozaki Family sell mysterious devices resembling USB flash drives called Gaia Memories to criminals and other interested parties who use them to become monsters called Dopants, committing crimes with the police force powerless to stop them.
Kamen Rider W (Double) English sub
To make matters worse, the Gaia Memories carry a dangerous toxin that cause their users to go insane to the point where they could die from the life-threatening devices. After the death of his boss, the self-proclaimed hard-boiled (actually half-boiled) detective Shotaro Hidari works with the mysterious Philip, who possesses the true Gaia Memory, to investigate crimes which involve Dopants.
Using their own Gaia Memories, Shotaro and Philip use the Double Driver belts to transform and combine into Kamen Rider Double to fight the Dopant menace and keep Futo safe. While joined in their fight by investigator Ryu Terui, who transforms into Kamen Rider Accel, the mystery of Philip's past, his relation to the Sonozaki Family, and their Museum organization are revealed
Watch online Kamen Rider W (Double)